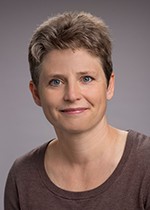 Alexandra von Meier
Adjunct Professor, Retired
Info Links
Research Centers
Biography
Alexandra "Sascha" von Meier was an Adjunct Professor in the Department of Electrical Engineering and Computer Science at UC Berkeley, where she taught courses on Electric Power Systems. She was also Director in CIEE's Electric Grid program area, focusing on power distribution systems, Smart Grid issues, and the integration of distributed and intermittent generation. Her research projects centered on the use of high-precision micro-synchrophasor measurements for situational awareness, diagnostics and control applications in distribution grids.
Education
1995, PhD, Energy and Resources, UC Berkeley
1990, MA, Energy and Resources, UC Berkeley
1986, BA, Physics, UC Berkeley
Selected Publications
D. H. Saba, M. Rusch, D. Laverty, and A. von Meier, "Iterative Quadrature Demodulation for Harmonic Synchrophasor Estimation," in 2022 IEEE International Conference on Smart Grid Synchronized Measurement and Analytics (SGSMA), 2022.
A. von Meier and L. N. Dunn, "Empiricism and Collaboration on Grid Data Analytics: The Need for a New Information Ecosystem," ACM SIGEnergy Energy Informatics Review, vol. 1, no. 1, pp. 89--94, Nov. 2021.
M. Bariya, A. von Meier, J. Paparrizos, and M. J. Franklin, "k-ShapeStream: Probabilistic Streaming Clustering for Electric Grid Events," in 2021 IEEE Madrid PowerTech, 2021, pp. 1--6.
K. Moffat, J. Pakshong, L. Chu, G. Fierro, J. Swartz, M. Baudette, and A. von Meier, "Phasor based control with the distributed, extensible grid control platform," in 2021 IEEE Power & Energy Society Innovative Smart Grid Technologies Conference (ISGT), 2021, pp. 1--5.
A. von Meier, M. Bariya, J. Valdez-Resendiz, and J. Mayo-Maldonado, "The role of smart grids for the renewable energy transition," in Transforming the Grid Towards Fully Renewable Energy, Institution of Engineering and Technology, 2020, pp. 127-154.
A. von Meier, E. L. Ratnam, K. Brady, K. Moffat, and J. Swartz, "Phasor-based control for scalable integration of variable energy resources," Energies, vol. 13, no. 1, pp. 190, Jan. 2020.
A. von Meier, E. Stewart, A. McEachern, M. Andersen, and L. Mehrmanesh, "Precision Micro-Synchrophasors for Distribution Systems: A Summary of Applications," IEEE Transactions on Smart Grid, vol. 8, no. 6, pp. 2926-2936, Nov. 2017.
E. Stewart and A. von Meier, "Phasor Measurements for Distribution System Applications," in Smart Grid Handbook, Wiley, 2016.
M. Andersen, S. Kumar, C. Brooks, A. von Meier, and D. E. Culler, "DISTIL: Design and Implementation of a Scalable Synchrophasor Data Processing System," in IEEE Conference on Smart Grid Communications, 2015.
R. Arghandeh, M. Brown, A. Del Rosso, G. Ghatikar, E. Stewart, A. Vojdani, and A. von Meier, "The Local Team: Leveraging Distributed Resources to Improve Resilience," IEEE Power and Energy Magazine, vol. 12, no. 5, pp. 76--83, Sep. 2014.
A. von Meier, "Challenges to the Integration of Renewable Resources at High System Penetration," California Energy Commission, May 2014.
A. von Meier, Electric Power Systems: A Conceptual Introduction, Wiley, 2006.
A. von Meier, "Occupational Cultures as a Challenge to Technological Innovation," IEEE Transactions on Engineering Management, vol. 46, no. 1, pp. 101-114, Feb. 1999.
A. von Meier, J. L. Miller, and A. C. Keller, "The Disposition of Excess Weapons Plutonium: A Comparison of Three Narrative Contexts," The Nonproliferation Review, vol. 5, no. 2, pp. 20--31, Nov. 1998.
G. Rochlin and A. von Meier, "Nuclear Power Operations: A Cross-Cultural Perspective," Annual Review of Energy and the Environment, vol. 19, no. 1, pp. 153--187, Nov. 1994.