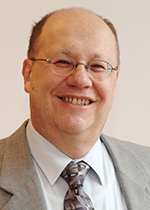 Adam Wolisz
Former Adjunct Professor
Info Links
Research Centers
Selected Publications
W. Hu, D. Willkomm, M. Abusubaih, J. Gross, G. Vlantis, M. Gerla, and A. Wolisz, "Dynamic frequency hopping communities for efficient IEEE 802.22 operation," IEEE Communications Magazine, vol. 45, no. 5, pp. 80-87, May 2007.
A. Aguiar and A. Wolisz, "Channel prediction heuristics for adaptive modulation in WLAN," in Proc. 2007 IEEE 65th Vehicular Technology Conf. (VTC 2007-Spring), Piscataway, NJ: IEEE Press, 2007, pp. 1091-1095.
A. Festag, H. Karl, and A. Wolisz, "Investigation of multicast-based mobility support in all-IP cellular networks," Wireless Communications and Mobile Computing, vol. 7, no. 3, pp. 319-339, March 2007.
J. van Greunen, Y. Markovsky, C. R. Baker, J. M. Rabaey, J. Wawrzynek, and A. Wolisz, "ZUMA: A platform for smart-home environments -- The case for infrastructure," in Proc. 2nd IET Intl. Conf. on Intelligent Environments (IE 2006), Vol. 1, Stevenage, UK: IET Press, 2006, pp. 257-266.
C. Hoene, H. Karl, and A. Wolisz, "A perceptual quality model intended for adaptive VoIP applications," Intl. J. Communication Systems, vol. 19, no. 3, pp. 299-316, April 2006.
J. Gross, H. Geerdes, H. Karl, and A. Wolisz, "Performance analysis of dynamic OFDMA systems with inband signaling," IEEE J. Selected Areas in Communications, vol. 24, no. 3, pp. 427-436, March 2006.
D. Cabric, S. M. Mishra, D. Willkommen, R. W. Brodersen, and A. Wolisz, "A cognitive radio approach for usage of virtual unlicensed spectrum," in Proc. 14th IST 2005 Mobile Wireless Communications Summit, European Information Society, 2005, pp. 4 pp.
M. Herzog, M. Maier, and A. Wolisz, "RINGOSTAR: An evolutionary AWG-based WDM upgrade of optical ring networks," IEEE/OSA J. Lightwave Technology, vol. 23, no. 4, pp. 1637-1651, April 2005.
V. Handziski, J. Polastre, J. Hauer, C. Sharp, A. Wolisz, and D. E. Culler, "Flexible hardware abstraction for wireless sensor networks," in Proc. 2nd European Workshop on Wireless Sensor Networks, E. Cayirci, S. Baydere, and P. Havinga, Eds., Piscataway, NJ: IEEE Press, 2005, pp. 145-157.
J. Gross, J. Klaue, H. Karl, and A. Wolisz, "Cross-layer optimization of OFDM transmission systems for MPEG-4 video streaming," Computer Communications, vol. 27, no. 11, pp. 1044-1055, July 2004.
A. Willig, M. Kubisch, C. Hoene, and A. Wolisz, "Measurements of a wireless link in an industrial environment using an IEEE 802.11-compliant physical layer," IEEE Trans. Industrial Electronics, vol. 49, no. 6, pp. 1265-1282, Dec. 2002.
A. Wolisz, "Information access is fine, but who is going to pay?," in New Developments in Distributed Applications and Interoperable Systems: Proc. IFIP TC6/WG6.1 Third Intl. Working Conf., K. Zielinski, K. Geihs, and A. Laurentowski, Eds., Vol. 198, Deventer, The Netherlands: Kluwer, B.V., 2001, pp. 149-160.
M. Schlager, B. Rathke, S. Bodenstein, and A. Wolisz, "Advocating a remote socket architecture for Internet access using wireless LANs," Mobile Networks and Applications, vol. 6, no. 1, pp. 23-42, Jan. 2001.
D. Sisalem and A. Wolisz, "MLDA: A TCP-friendly congestion control framework for heterogeneous multicast environments," in Proc. 2000 8th Intl. Workshop on Quality of Service (IWQOS 2000), Piscataway, NJ: IEEE Press, 2000, pp. 65-74.