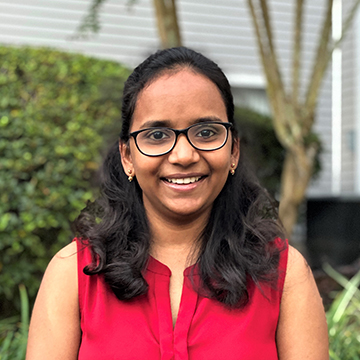 PhD Candidate
University of Florida
Areas of Interest
Integrated Circuits
RF Passive Devices
Micro and Nano Fabrication Techniques
Poster
Energy Efficient Passives for 5G and Beyond
Abstract
Over the past 50 years technology underwent drastic makeover, making Internet of Things (IoT) ubiquitous. It is estimated that by 2025 we will have nearly 38.6 billion IoT devices. To accommodate this huge device traffic, achieve higher data rates and low latency upcoming 5G is trying to broaden the spectrum range by transitioning to mm wave frequencies (i.e. 24-38 GHz and above 60 GHz) along with the sub 6 GHz range. But the major challenge is that, as the frequency of operation increases, losses due to substrate dielectric, roughness and conductor degrades the performance, causing high power consumption in mm wave devices and high-speed interconnects.
My research focuses on addressing these challenges and ultimately realizing energy efficient passives for 5G and beyond. Firstly, using CMOS/packing compatible fabrication methods and design techniques, I experimentally demonstrated various mm wave devices such as filters, antennas, and low temperature processed magnetic material based nonreciprocal devices. Using electromagnetic simulation tools such as High Frequency Structural Simulator (HFSS ANSYS) and Advanced Designed System (ADS Keysight Technologies) impact of various loss factors on device performance is analyzed. Further, to minimize these losses in devices especially due to copper conductor, I also studied and experimentally verified new low loss conductors in Ka and V band using multiple nanolayers of non-ferromagnetic and ferromagnetic materials. Moving forward, I aim to implement tunable low loss nonreciprocal devices by integrating them with ferroelectric materials such as Barium Strontium Titanate (BST) targeting mm wave frequencies.
Bio
Renuka Bowrothu is a Ph.D. candidate (2017-present) in Electrical and Computer Engineering (ECE) at the University of Florida (UF), USA and is currently advised by Dr. Yong Kyu Yoon. She holds a Master of Science (2015-2017) in ECE from UF and a Bachelor of Science (2011-2015) degree in Electronics and Communications Engineering from Vasavi College of Engineering, India. She received the 2019 IEEE Antenna Propagation Society (APS) Doctoral Fellowship Award. Also, she is currently serving as an inaugural student chapter president for the IEEE Electronics Packaging Society (EPS) at UF. Her research interests lie in the design, fabrication, and characterization of RF Millimeter (mm) wave devices. She is passionate about implementing CMOS technology and packaging compatible energy efficient passives for 5G and beyond. In her research, she also explores novel low loss conductors also known as metaconductors in Ka (27.5-40 GHz) and V (40-75 GHz) bands.